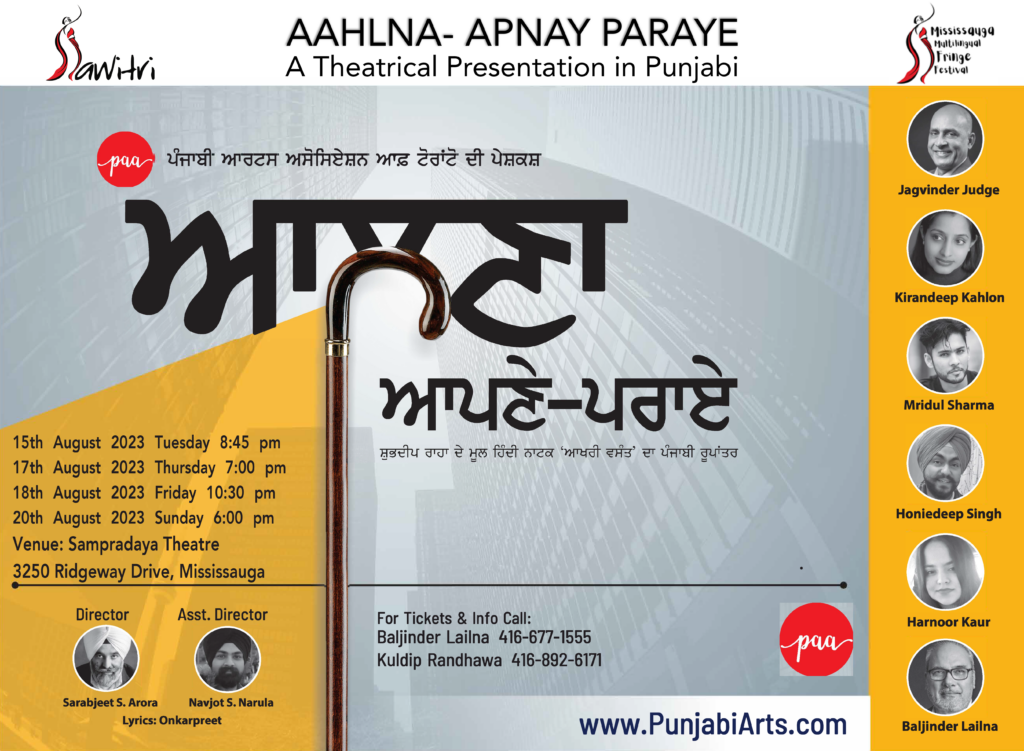 Title : Aahlna – Apnay Paraaye
Synopsis : Aahlna Apnay Paraaye is a full-length theatrical play with a poignant storyline that revolves around South Asian immigrant seniors in Canada exploring their challenges with increasing isolation. The Canadian adaptation of this script has been developed with the support and guidance from GTA's Punjabi speaking senior community.
Performed on stage by Mridul Sharma, Jagvinder Judge, Kirandeep Kahlon, Harnoor Kaur, Baljinder Lailna and Honiedeep Singh.
With sound and lighting deisgn by Navjot Singh Narula, this is directed by PAA's Artistic Director and globally celebrated thespian, Sarabjeet S. Arora.
Language : Punjabi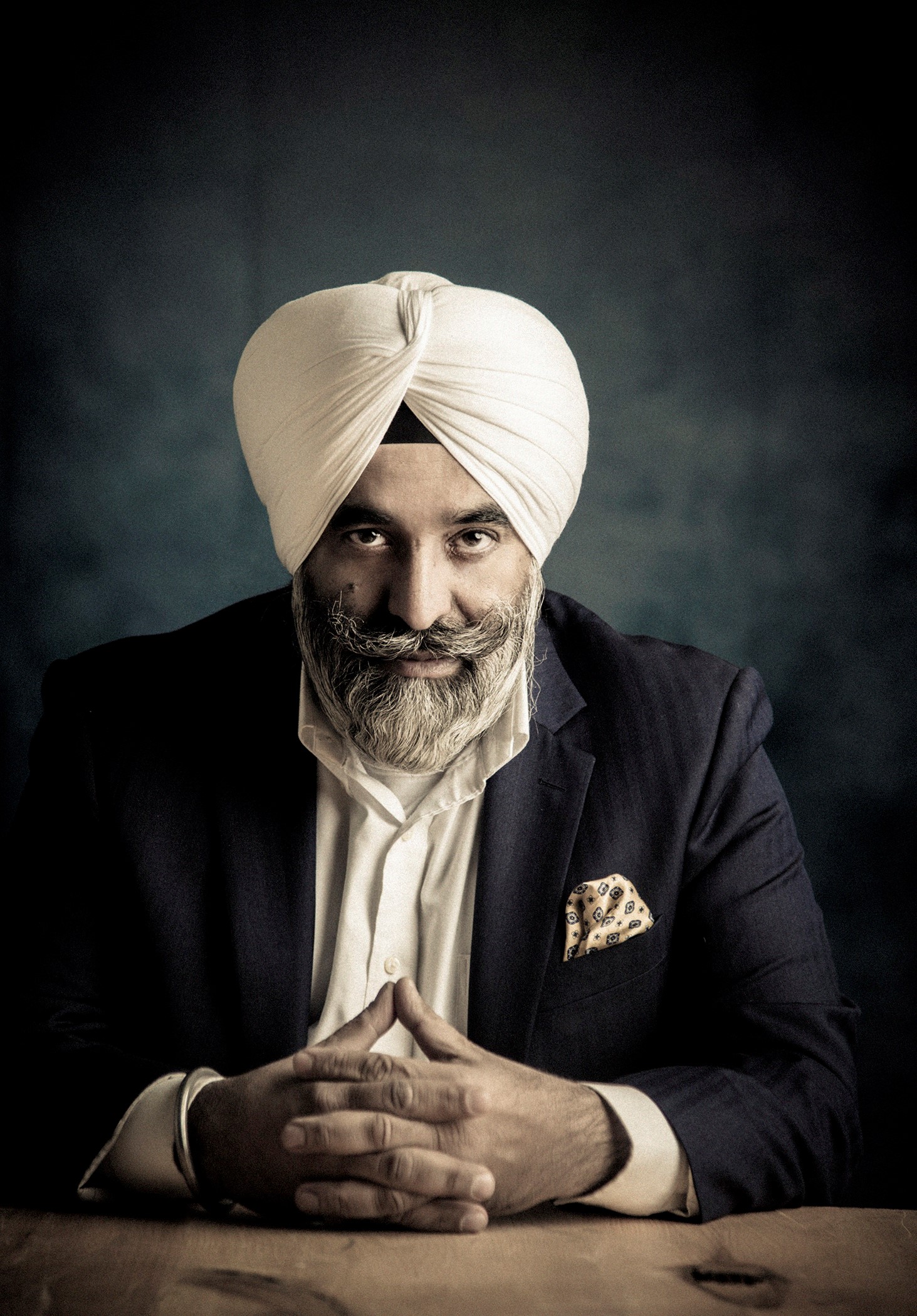 Sarabjeet Arora, the current resident director and creative producer of the Punjabi Arts Association of Toronto, boasts a remarkable 30-year journey in the theater realm. Initially, he embarked on his theatrical path as a young actor in new Delhi, India, receiving training from renowned theater stalwarts. Subsequently, he honed his skills at various workshops at the prestigious National School of Drama. Throughout his extensive career, Sarabjeet has excelled as a playwright,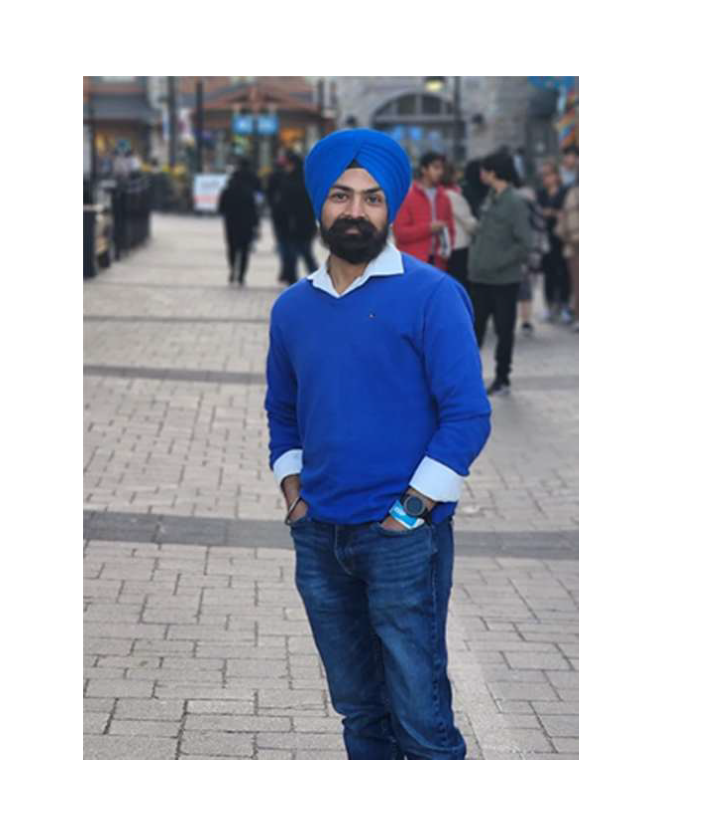 Navjot Singh Narula, a write, actor and a director is a Techie by profession, but his heart and passion lie in the world of art. He has always harbored a deep interest in various art forms and literature. During his college and university years, Navjot began exploring his artistic side by engaging in writing, acting, and directing short skits, sketches, and one-act plays. He remains committed to pursuing these creative endeavors whenever the opportunity arises. In the past year, Navjot has collaborated with PAA, serving as both an Assistant Director and Director for different productions. His works have been presented at PAA's Nikke Naatak Vaddian Gallan and projects at the Sawitri Shorts Festival.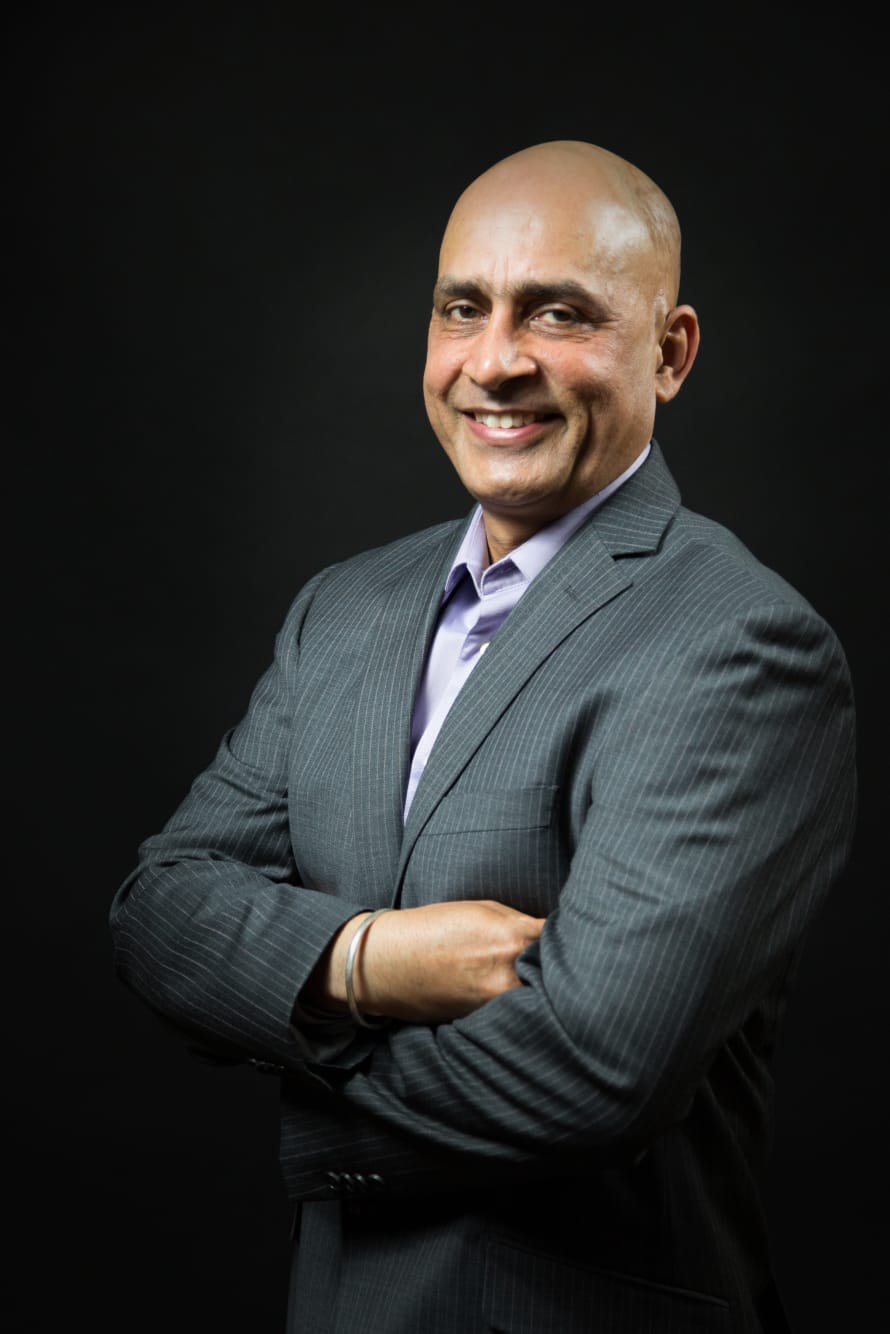 Jagvinder Judge, a renowned Actor and Director, is acclaimed for his remarkable ability to adapt both physically and mentally to embody any character he portrays. Hailing from Punjab, India, Jagvinder has passionately graced the performing arts for over 35 years, amassing an extensive portfolio across films, TV, and stage. Notably, he is also recognized as a skilled lighting designer, offering his expertise to numerous directors in their productions. His versatile talents and
dedication have solidified his esteemed position in the entertainment industry.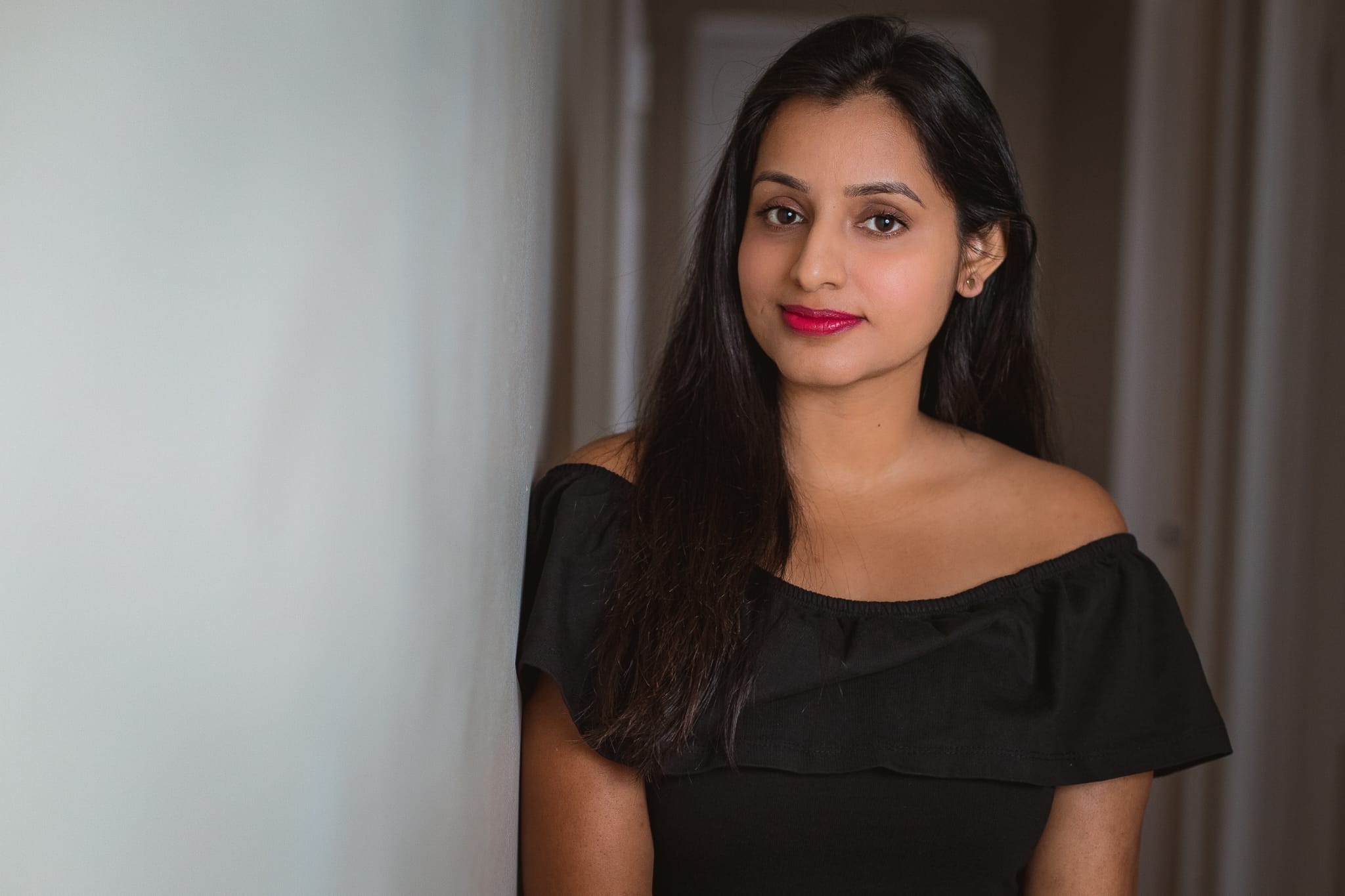 Kirandeep Kaur - Graduated from Asmita Theatre Company, New Delhi with a diploma in Street play and socio- political theatre,she has acted in several plays over the years: Chukayenge Nahi, Court Martial, Macbeth, Refugee, Amritsar Aa Gaya, Ramkali, and The last Salute. Some of her other work includes Peachy Keen Short Plays with The Bus Stop Theatre, The Knight of Pestle with Villians Theatre, Character mask workshop with Theatre du Poulet, Drinking Game with Dapopo Theatre Company, Students Playwrights Play reading with Theatre Nova Scotia. Kiran has also acted in Dearg and The Tales of the man who whispered to the flowers; both award-winning short films at the Atlantic Film festival 2018.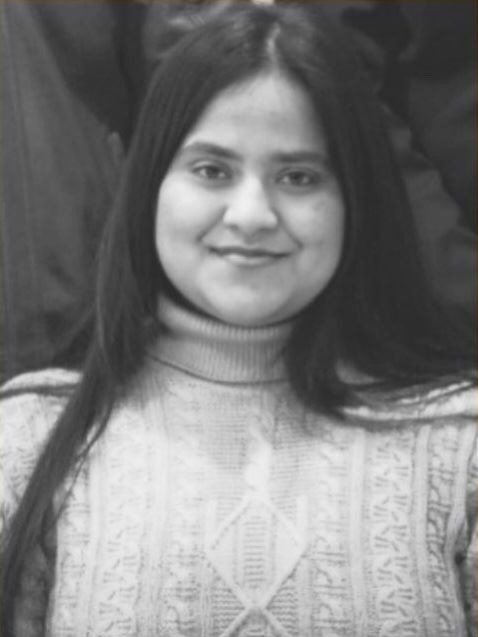 Harnoor Kaur, a passionate actor, possesses an innate ability to effortlessly portray intricate characters. Her journey in the performing arts began as far back as she can recall, and theater has become an integral part of her life, fueling her deep passion. Since 2019, Harnoor has been actively involved with PAA (Punjabi Arts Association). Her dedication to her craft led her to work in two short films with SOCH. Always seeking to push her boundaries, Harnoor eagerly embraces new roles and opportunities that challenge her abilities as an actor. Her commitment to the art form drives her to continuously grow and evolve as a performer.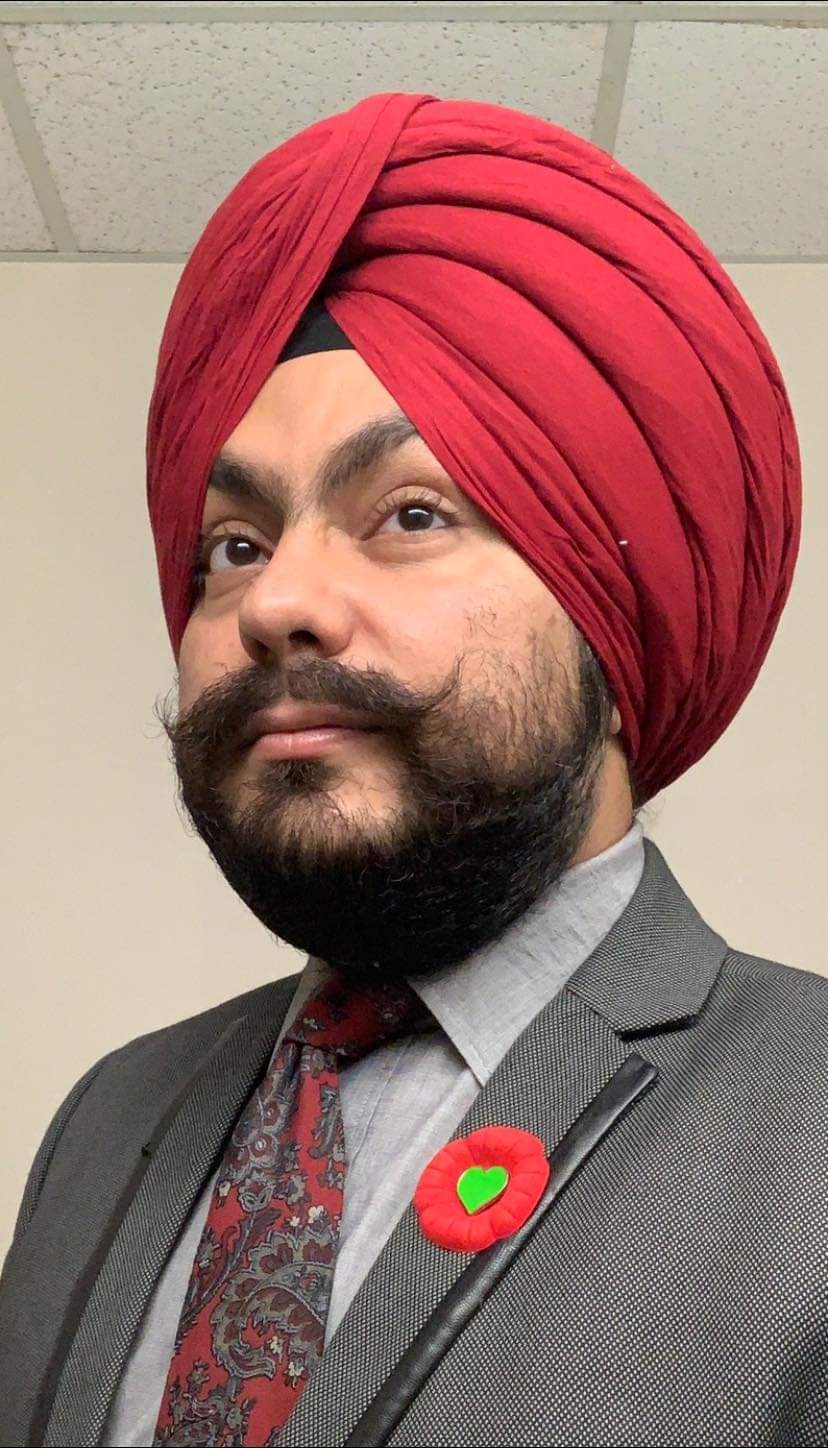 Honiedeep is a banker by profession and an artist by passion. He has been on the stage since he was 11. Has mostly been involved in Punjabi theatre. He has covered multiple facets of performing arts, which include acting, script writing, street theatre, AD making, stage management, etc. When not working or acting; he loves riding his motorcycle.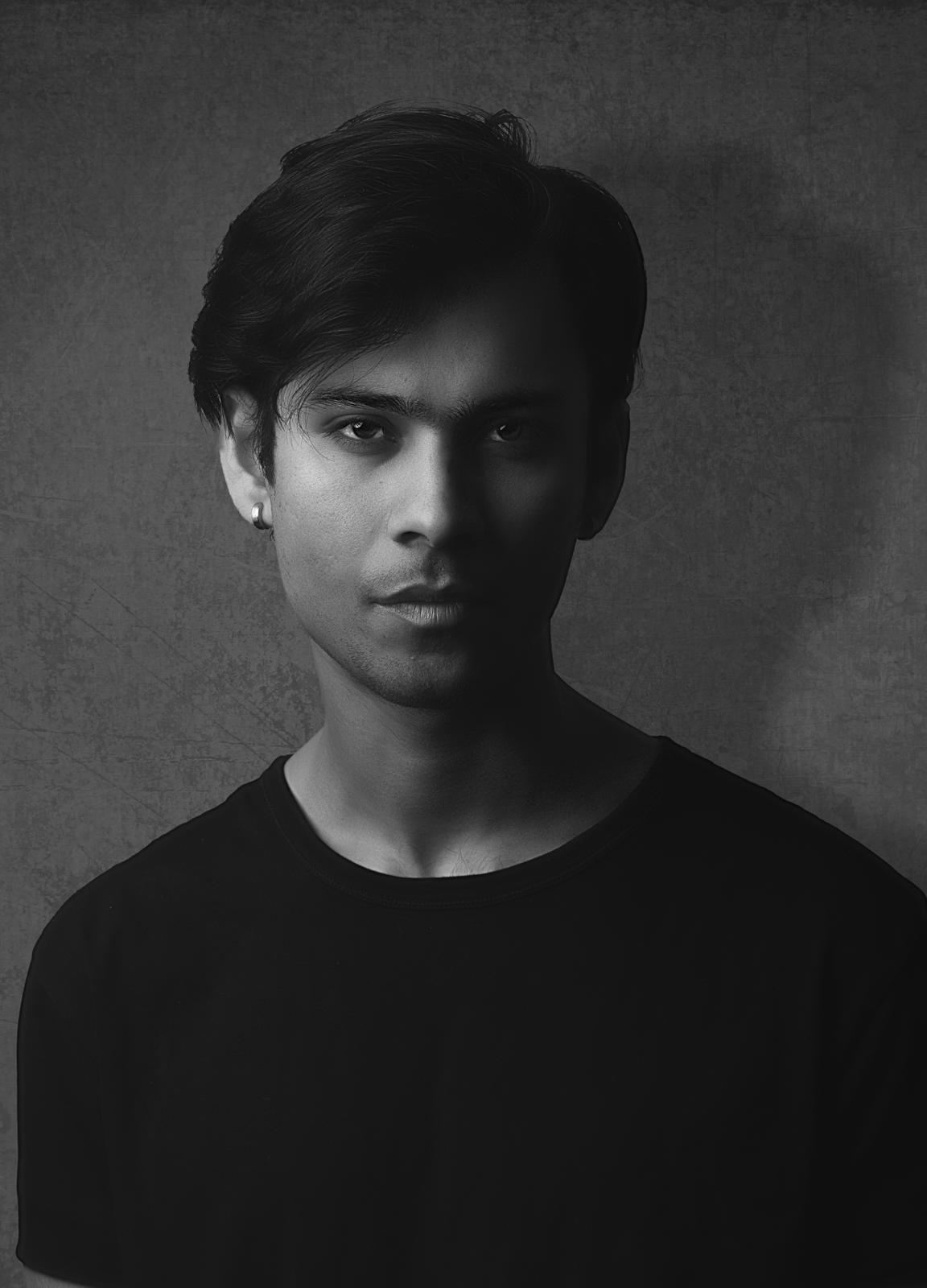 Mridul Sharma, born in Punjab, India, always harbored a childhood dream of becoming an
actor. After completing his studies, he took a leap towards his passion and began his acting journey in 2018 by undergoing training at the Toronto Film School. Starting with a few student projects and short films, he eventually found himself featuring in Punjabi music videos. With over a year of valuable experience in Theater acting, Mridul is committed to honing his craft every day. Whether its perfecting a monologue, refining his voice pitch, or working on various scenes, he dedicates himself to constant improvement. Additionally, he is an integral part of a stunt team, specializing in hand-to-hand combat, knife fighting, jumps, and boxing choreography. Mridul embraces all opportunities, big or small, that come his way, remaining open to new experiences in pursuit of his acting aspirations.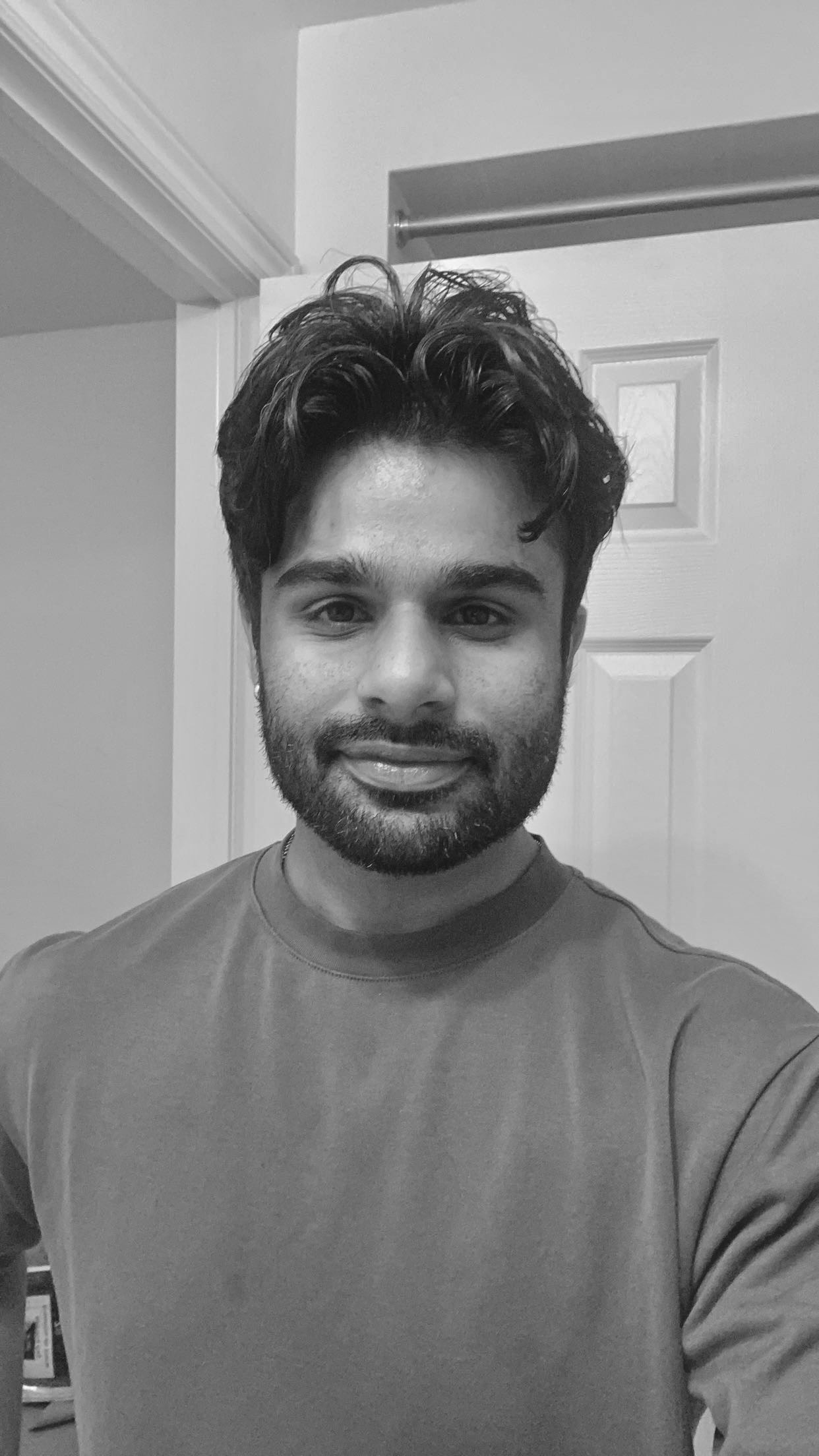 Meet Sachin Arora, an emerging actor, poised to make a mark on in in the world of entertainment. With dedication and a strong foundation in acting Sachin's passion for the craft is evident. Sachin's openness to explore different avenues sets him apart, making him equally adept at delivering powerful performances in film and theater. With a hunger for challenges and a humble demeanor, he is certainly ready to scale heights.